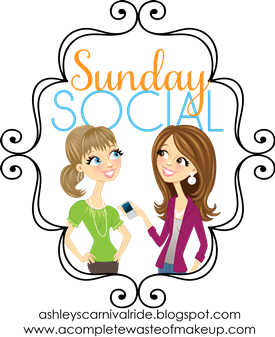 This is my first time joining in with Sunday Social! I have seen people do this in the past and just kept forgetting to join in!
1. What is your dream job?
I'm not really sure anymore...I still lean towards Drug and Alcohol counselor or a Social Worker...
2. If you had just won the lottery and didn't need to work for money, what would you do with your time?
Take a long vacation and pay all my bills! Maybe give some to charity.
3. When you were a kid, what did you want to be when you grew up?
Drug and Alcohol Counselor, Vet, Nurse...Ugh...Lots of things!
4. What piece career advice would you give to someone just starting out in your field?
I work with Mentally Handicapped adults, so I would tell them that more than likely they are going to get hit, kicked, punched, bit!
5. Biggest Pet Peeves either in life or in blogging or at work?
Life: The list is pretty big! Blogging: Cliques, people who only blog for numbers, and people who think they are better than everyone. Work: People who come do work and don't do a damn thing!
6. Biggest Fears?
My house catching on fire! The thought of it gives me anxiety!
Come and join the fun and link on up!!!